Supply Chain Resilience & Optionality Approach
The pandemic caught many companies off guard and brought to light the hidden vulnerabilities that exist within otherwise efficient global supply chains. This has reinforced the need for digitization, supplier optionality, agility, better visibility and an improved balance between local, regional and global sourcing, adding a new urgency to the need to know sooner and act faster.

Building in a higher level of optionality, visibility and de-risking is the first order of business as companies react to geopolitical events.

Our hands on, accelerated approach helps executives improve visibility, control, resilience and agility in the supply chain. Our six-step strategic sourcing process helps organizations identify and renegotiate with suppliers to secure the best possible deals and balance risk by exploring sourcing opportunities in offshore, near shore and onshore locations without damaging their long-term interests relative to quality, delivery and performance.

Our resilience and optionality approach is integrated into our end-to-end supply chain and operations transformation approach called Total Value Optimization™.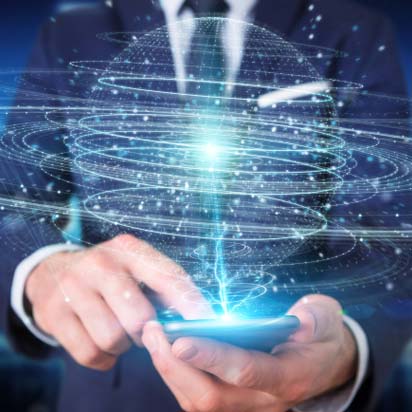 Improve optionality of supply to respond to demand

Mitigate significant supply chain and operations disruptions

Expand, optimize and balance offshore, nearshore and onshore supply base

Improve visibility, management control & reporting of supplier performance across business

Gain insight into tier and supply base maturity to reduce risk and improve performance

Eliminate silos and drive cross-functional alignment

Drive measurable improvements in cost, cash, resilience and growth ​
What Our Clients Say
Experience the difference
Resilience and Optionality Success Stories
Driving measurable and sustainable change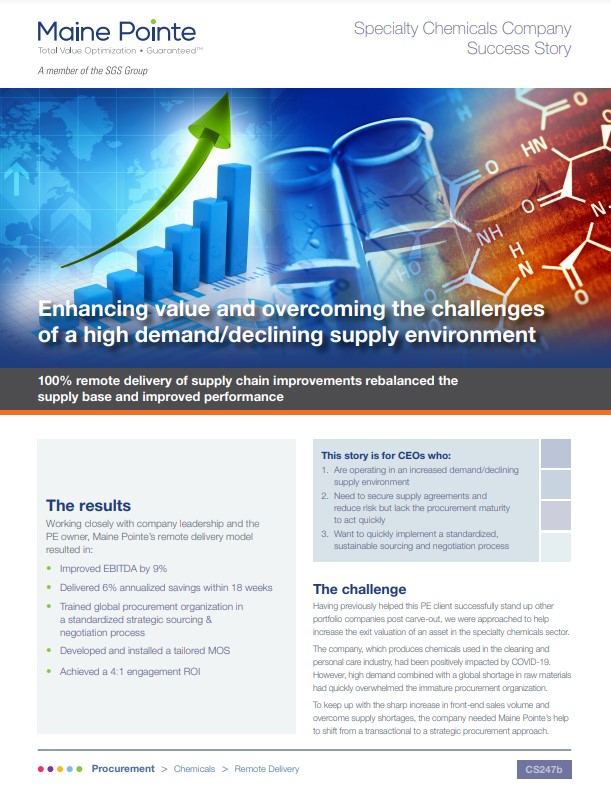 Identified new domestic and overseas suppliers, map the existing supplier base back to producers to investigate the availability of additional raw material leading to a 9% EBITDA improvement in 18 weeks.
Read Story ➔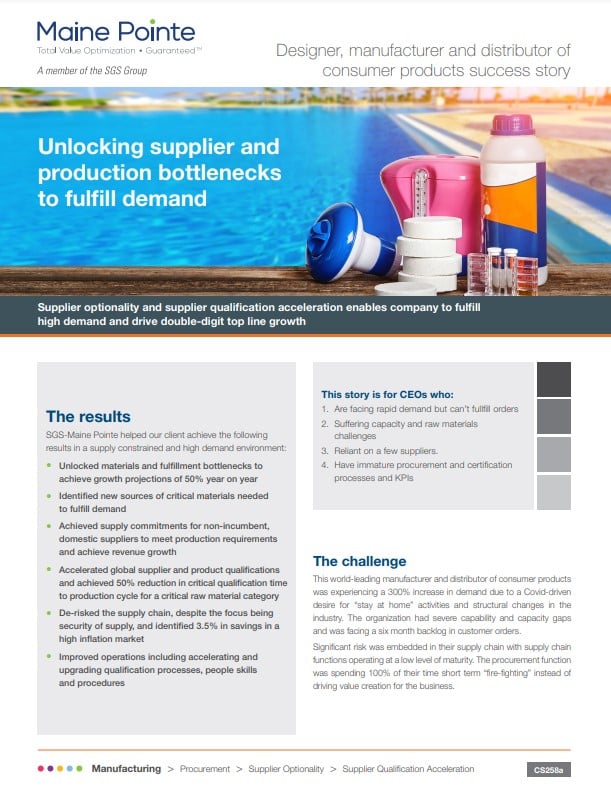 Supplier optionality and supplier qualification acceleration enables company to fulfill high demand and drive double-digit top line growth
Read Story ➔

Talk to us
Have a particular business challenge you'd like to address?
Submit this contact form to speak with one of our executives.