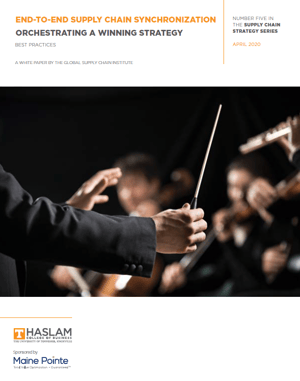 End-to-End Supply Chain Synchronization
Produced by the University of Tennessee's Global Supply Chain Institute and sponsored by Maine Pointe, this white paper defines eight methods to help companies synchronize their "three Ps," physical assets, business processes and people systems, with their core business drivers. The goal? Achieving total value in the supply chain.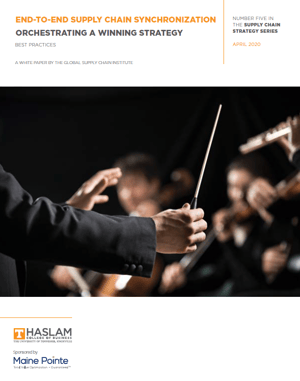 Are You Ready To Synchronize?
An end-to-end supply chain synchronization strategy requires strong supply
chain and business capabilities.

What Does Synchronization Mean?
One of the most interesting perspectives from our networking and benchmarking interviews is the high variation in supply chain leaders and professionals' understanding

GSCI Supply Chain
Improvement Model
As management guru Peter Drucker argued in his classic HBR article, "Theory of the Business,"3 there's a critical distinction between "how to do something" and "what you should be doing."
Some things in business are just facts of life. For example, if you operate in the oil industry, the massive fixed investment needed to extract, refine, and transport oil is a fact of life that shapes decision making in all areas of the business. Alternatively, if you operate in the fashion industry, rapidly changing consumer tastes are a fact of life, which means your company's success or failure depends on its ability to bring new designs to market quickly.
We call these facts of life "core business driver." The core business driver can be internal to an organization – like a required rate of return on invested capital, or external – like changing customer preferences. They can arise out of supply side constraints or demand side opportunities. They can be brought on by competitive pressures, the macro-economy, or the regulatory environment. They can even change over the life of an organization or product. If you take a minute, you can probably identify two or three business drivers for your company.
End-to-End Supply Chain Synchronization