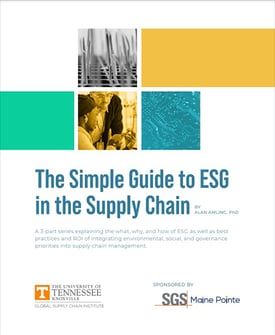 The Simple Guide to ESG in the Supply Chain (Part 1 of 3)
This article is part 1 of a 3-part series explaining the what, why and how of Environmental, Social and Governance (ESG), its best practices and the ROI of integrating ESG priorities into supply chain management.

Written by Alan Amling, PhD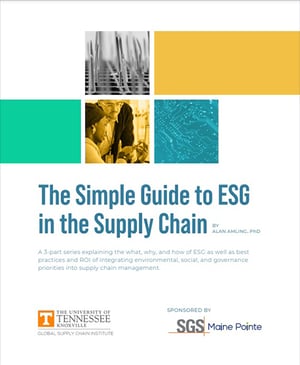 THE CALL TO ACTION
Why it's no longer enough to optimize procurement, operations, and logistics networks to create a competitive advantage.

WHAT IS ESG?
An overview of ESG, and its impact on the financial, social, and sustainability efforts of a company.

WHY IS ESG SO IMPORTANT NOW?
Today, ESG is a critical issue, impacting a company's growth, bottom line, and ability to attract and retain talent.

ESG: AN INVESTMENT, NOT A COST
Investment, as the outlay of money for income or profit, is really just sacrificing
some of today's bounty in the hope of a better tomorrow.

WHY SUPPLY CHAINS ARE THE FRONT LINES OF ESG
The environmental and social challenges of our time will not get solved unless
executives and supply chain leaders meet the challenge head on.

BROAD OPPORTUNITIES TO IMPROVE ESG PERFORMANCE
Just like there is no single supply chain strategy that is correct for all companies,
there is no single right ESG strategy for every company.
Preview of 'The Simple Guide to ESG in the Supply Chain'
ESG is the environmental, social, and governance standards by which investors judge a firm's social and environmental conscientiousness.
ESG is often incorporated into a business's risk mitigation, compliance, and investment strategies and includes a wide array of measurements and best practices. ESG is the term most often used by investors, but public-facing documents usually refer to these practices as sustainability.
There is a slight difference between the two. Sustainability language usually emerges from a business's marketing arm, and many enterprises will have a sustainability report directed towards a consumer audience rather than investors.
The central idea behind both however is that organizations should be concerned with long-term sustainability—of their business, the people in their sphere of influence, and the planet. Public concern about corporate trustworthiness and environmental impact has been escalating for decades, but accounting for it has become a strategic imperative for organizations in the last five years.

In July of 2020, Boohoo lost over $1.5 billion in market value over two days after revelations of poor working conditions at one of their garment manufacturers came to light. Investors and customers balked at reports that factory workers in Leicester, England, were being paid less than £3.50 per hour and not provided proper Covid-19 PPE. Boohoo told reporters that it discovered its declared supplier was no longer a garment manufacturer, and it was not sure who was supplying all its garments.

The manufacturer Boohoo originally contracted with had not operated the factory for two years. Another company took over the factory, assumed the original supplier's name, and continued to supply garments to Boohoo. Consumers and investors did not give Boohoo a pass. Losing visibility in its end-to-end supply chain cost the company nearly a third of its value. The lesson is clear: To consumers and investors alike, contractors, sub-contractors, and any other participants in a retailer's extended supply chain are as much the retailer's responsibility as if the action came directly from the corporate office.



The Simple Guide to ESG in the Supply Chain (Part 1 of 3)