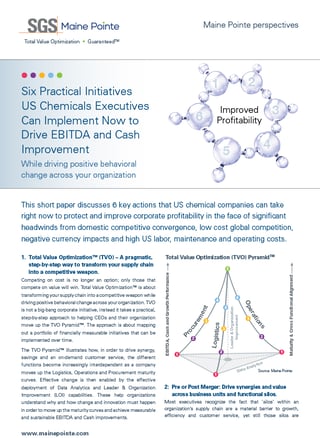 U.S. Chemicals Perspectives Paper
Six Practical Initiatives US Chemicals Executives Can Implement Now
This Maine Pointe Perspective paper is for executives in the US Chemical industry and includes:
6 key actions that US chemical companies can take right now to drive EBITDA and Cash improvement

How to drive positive behavioral change across your organization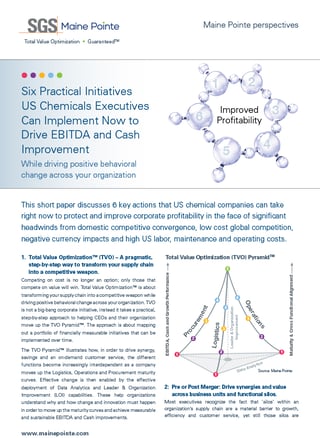 Transform your supply chain into a competitive weapon

Drive synergies and value across business units and functional silos

Logistics, distribution and warehouse cost optimization

Competing on cost is no longer an option; only those that compete on value will win. Total Value Optimization™ is about transforming your supply chain into a competitive weapon while driving positive behavioral change across your organization. TVO is not a big-bang corporate initiative, instead it takes a practical, step-by-step approach to helping CEOs and their organization move up the TVO Pyramid™. The approach is about mapping out a portfolio of financially measurable initiatives that can be implemented over time.
The TVO Pyramid™ illustrates how, in order to drive synergy, savings and an on-demand customer service, the different functions become increasingly interdependent as a company moves up the Logistics, Operations and Procurement maturity curves. Effective change is then enabled by the effective deployment of Data Analytics and Leader & Organization Improvement (LOI) capabilities. These help organizations understand why and how change and innovation must happen in order to move up the maturity curves and achieve measurable and sustainable EBITDA and Cash improvements.
eBook: U.S. Chemicals Perspectives Paper