Leverage the power of Data Analytics to improve EBITDA and Cash
As the big data explosion continues unabated, advanced data analytics and predictive modeling is rapidly becoming an opportunity for corporate differentiation to drive increased EBITDA and profitability. Most organizations simply lack skilled data analytics resources and, consequently, struggle to leverage the real power of data analytics. Frequently, important market supplier, product, pricing, distribution, sales, marketing and customer data is incomplete or resides in functional silos. Being technology agnostic, we are ideally positioned to help leverage the power of data and act as the pragmatic bridge between big data, supply chain and customer experience corporate initiatives.
What we do
We help our clients leverage the real power of data analytics through a client analysis, an implementation engagement or by delivering advanced analytics solutions.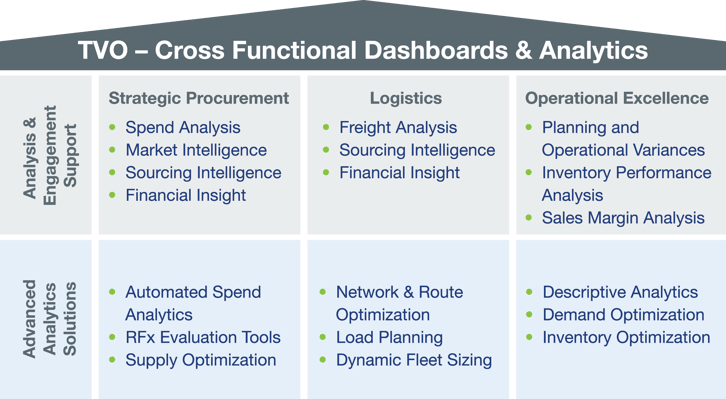 How we do it
Our data analyst, data architecture and business intelligence experts have a wealth of experience working with clients and our operational implementation teams to drive actionable, measurable outcomes. Our approach is proven but, more importantly pragmatic and results-driven. Our analysts use sophisticated tools to carry out advanced mining, analysis, modeling, and predictive techniques that help clients transform data into insight for operational implementation and business advantage. For example, for one client our data analyst team identified a new supplier opportunity resulting in a new revenue stream for the business which is forecast to increase revenue by between 4-6%.
A key enabler for driving and tracking measurable change
Our data analytics capability is a key foundation in helping clients transform their supply chain into a competitive weapon and compete on value. The methodologies, tools and approach our people take provides the bedrock of actionable insights that help clients identify, track, measure and report on operational improvements as we help them to improve EBITDA and cash performance and move up the Total Value Optimization Pyramid™.
Our approach to data analytics is different because:
We deliver EBITDA & cash by helping CEOs & CIOs identify trends and take timely corrective actions
Being technology agnostic, we are ideally positioned to help leverage the power of data and act as the pragmatic bridge between big data, supply chain and customer experience corporate initiatives
We turn data into meaningful business executive insight
We help clients drive real value from existing IT platforms
We provide pragmatic workable solutions that help optimize existing platforms
We map out with you a portfolio of initiatives that link to your business needs and financial metrics to drive incremental change at a pace tailored for your organization
We implement an Analysis that focuses on your EBIDTA & Cash drivers, bottlenecks and quantifies/validates the areas for value creation
We develop an Engagement Plan / TVO Journey Map that is supported by resource requirements, investment, (ROI) & engagement cash flow
We hold regular progress meetings to ensure that we are still "tracking" in regards to initiatives, cash flow and savings targets
---
Clients Speak
Maine Pointe built a reporting function which included an automated KPI trending chart and speedometer dashboard showing status vs targets. This is particularly helpful to me to understand our perfomance and manage variances."

Director of Operations - Suncor Energy
---
Maine Pointe's data analytics team transformed our raw data into powerful insights that enabled us to significantly improve efficiency in our business."

COO - Global Packaging Company
---
Your data analytics spend cube is awesome!"

Global Director, Procurement - Global Chemicals Company