Leadership and Organizational Improvement Solutions
Growth means change; and as your company grows, the leadership and organizational structure, processes, and culture that worked in the past begin to crumble. Changing customer demands, increased competition, and talent shortages also put pressure upon both leaders and the people they lead. It is time to ask:
Why does this organization exist?

Why do people want to work here?

Where do we want to be 3, 5, or 10 years in the future?

What must we accomplish in the next year?

How will we measure progress?
As the #1 supply chain and operations firm in North America, we go right on site to help answer those questions and build lasting leadership and organizational improvement (LOI). Our solutions are customized to the culture you want.
Why is Total Value Optimization (TVO)™ important to LOI?
Your planning, procurement, operations, and logistics need to work in sync and trust each other. Your company's ability to plan for the future requires a free flow of reliable, timely, accurate data. Leaders should be setting data-based goals and metrics and making data-based decisions based on visibility into the entire plan-make-buy-move supply chain. By the same token, any function that is omitted from the decision making table will struggle to meet or even understand leadership's goals and strategies.
TVO aims to raise the maturity of planning, procurement, operations, and logistics so that they all contribute to the health of your company. They are able to meet your specific, measurable, agreed-upon, result-oriented, and trackable (SMART) goals; and they deliver the greatest value to customers at the lowest cost to business.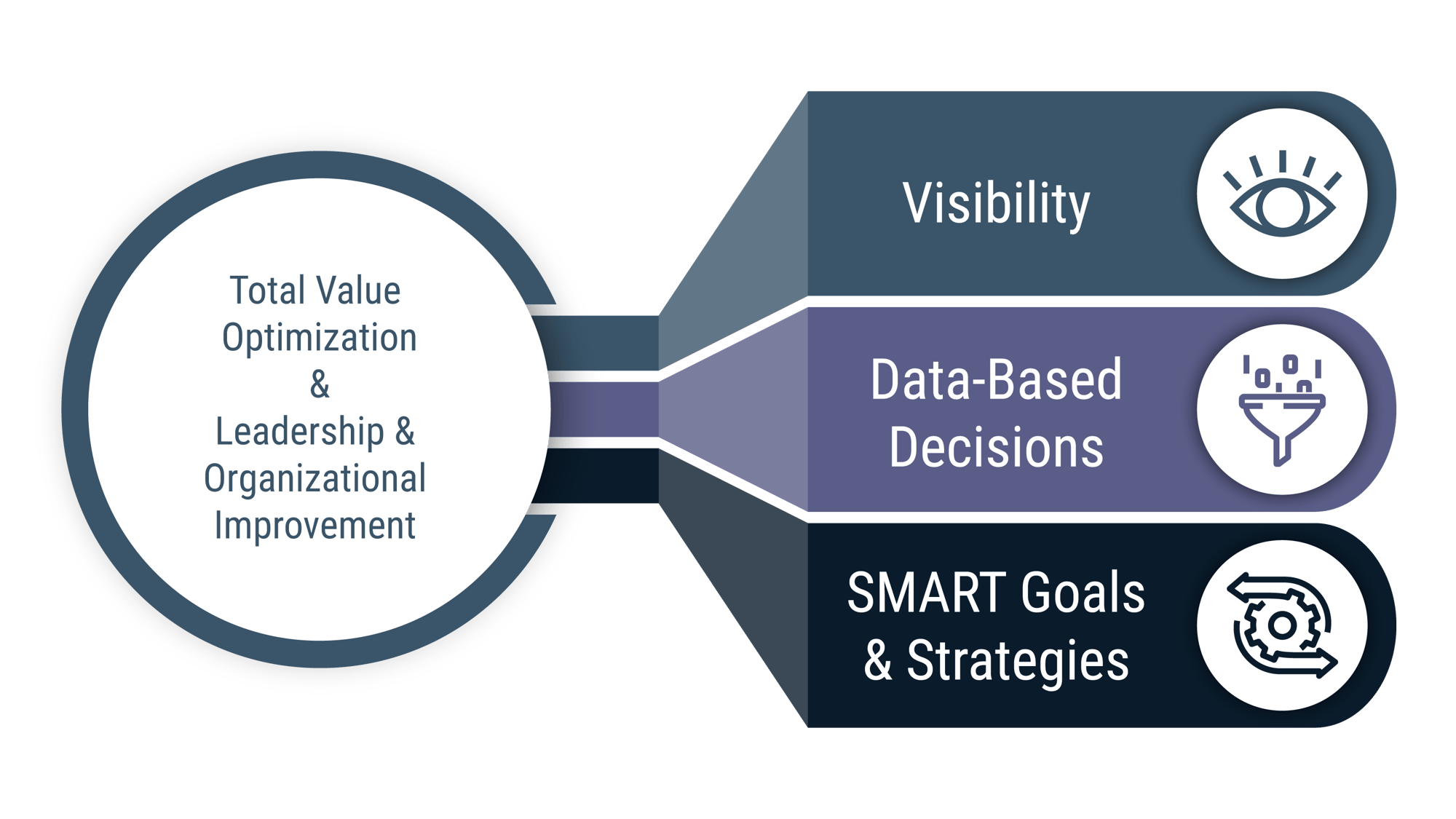 Why is change necessary? What is the aim: efficiency, improvement, productivity, innovation, or something else? What are the drivers for change? How will it be managed and who are the stakeholders? Until those questions are answered, change is unlikely. Our pragmatic and results-driven approach accelerates improvements across your leadership team and end-to-end supply chain.
Step #1: Observe
Go on site to evaluate your people, processes, and systems in action.


Create a balanced scorecard that looks at overall business effectiveness from four perspectives: organization, process, financial, and customer.


Identify opportunities for immediate value-added: TVO Quick Wins.
Step #2: Analyze
Perform a Gap analysis.


Establish SMART goals.


Develop a roadmap and timetable for implementation.
Step #3: Implement
Align strategies, organizational structure, and resources with the goals.


Establish owner, responsible, consult, and inform (ORCI) roles.


Create feedback loops to drive continuous improvement.
How we inspire change that sticks
Process Mapping
We track an activity step-by-step on site, to determine how it works and identify opportunities to make it better.
What we do
Understand your current process.
Uncover root drivers of performance across the plan-make-buy-move supply chain.
Find hidden gems and potential risks.
Position for implementation initiatives.
Decision Making Tools
We overcome the traditional organizational barriers to change: unclear goals, muddy decision-making rules and criteria, burnout, and dauntingly long processes, among others.
What we do
Build teamwork, trust, and ownership.
Establish a customer orientation.
Spur decisiveness and speed in decision making.
Encourage lateral and systems thinking.
Involve the people closest to the work.
Group Development
Clarity of roles, responsibilities, and accountability (ORCI) are essential for improving culture and profits. We emphasize clear direction, measurable objectives, mutually respectful communication, feedback, and people development.
What we do
Determine what motivates people.
Drive personal accountability through the ORCI process.
Over-communicate.
Establish objective and effective feedback loops.
People Tools
Change is driven by people; it sticks when people understand, accept, and can see and measure it. Passivity, diversion of resources, fear, and misinformation create barriers to change.
What we do
Coach and train.
Seek input from stakeholders and those closest to the work.
Develop goodwill ambassadors.
Conduct innovation workshops.
Company Description
Project Scope
Results

Provider of Clean Alternatives for Manufacturing & Refining


Procurement, SIOP, TVO, LOI





$4.8 million ROI in year one
$9.35 million EBITDA savings in year one
19 new suppliers


Manufacturer of Performance Polymers



LOI, Optionality Playbook

6% reduction in supply chain costs
50% value creation
Upgrade procurement


Provider of High Technology Products


Operational Excellence, Supply Chain Maturity, LOI





27% increase in revenue
3:1 ROI in year one; 5:1 in year two
Improved forecasting
Double-digit savings




Manufacturer of Consumer Products


LOI, Supply Optimization, Accelerated Results





50% growth annually
50% reduction in product & supplier qualification time
3.5% savings in inflationary market
Upgraded people skills




Fuel & Lubricants Distributor




Post-Merger Integration, TVO, LOI





Improved forecasting, KPIs, Management Operating System
Developed & enhanced safety culture
Optimized warehouse layout
Identified cost savings in labor & asset utilization
The keys to mining & energy project optimization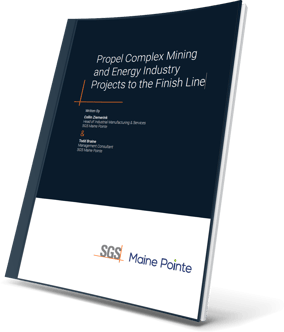 Uplifting Processes, Throughput, and Data to Support Long-Term Goals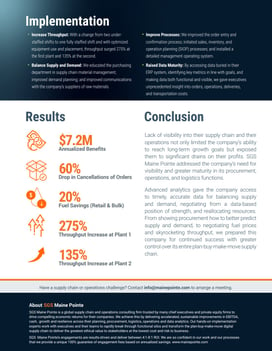 Our Blog: Trends and best practices for the E2E supply chain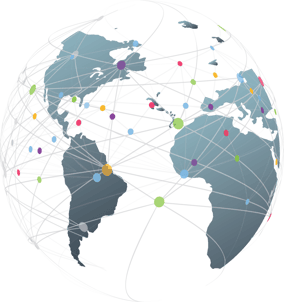 Ready to speak with a consultant?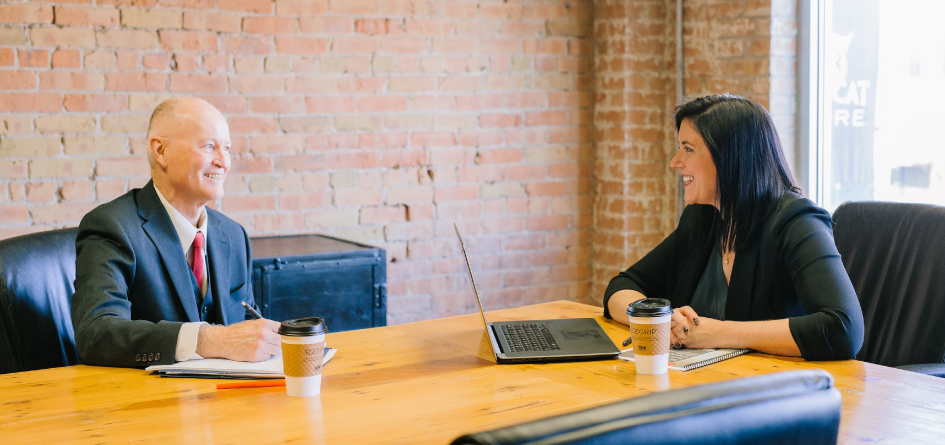 Talk to us
From rapid sprints for short-term gains to transformation for competitive advantage we are here to get you there.